Team Chipper Racers
Matt Crawford,
Project Manager and QA Lead
Sam Shiffman,
Scrum Master and iOS Lead
Cailin Li,
Configuration Manager and UX Lead
Colton Dennis,
Chief Beacon Officer and Web Lead
Project Synopsis
RaceChipper is a web and mobile project sponsored by Trillium Health that aims to provide a way to track race participants, while offering viewers and racers a platform to enjoy the race through social media. This is done through a inexpensive bluetooth device given to each race participant that acts as a tracking beacon, which is tracked by event admins equipped with iOS devices along the route.
This project is an existing project that continues off the work of a previous senior SE team, so many of the baseline features have already been implemented. Existing features include participant check in/out logs, location estimation, a chat room for staff, and a comprehensive overview showing participant location and status. While the application does these basic things, polishing up existing functionality will be a high priority.
Additional work on this project will focus on fixing bugs, adding missing features, enhancing the UI, supporting both iPhone and iPad as well as different user types, moving current web features to the mobile app, adding social media functionality, and monetization through ads. To ensure we're creating an application that will satisfy Trillium Health's needs, we will have weekly meetings with our liaison, AJ Blythe, to discuss their needs and possible solutions.
Domain Model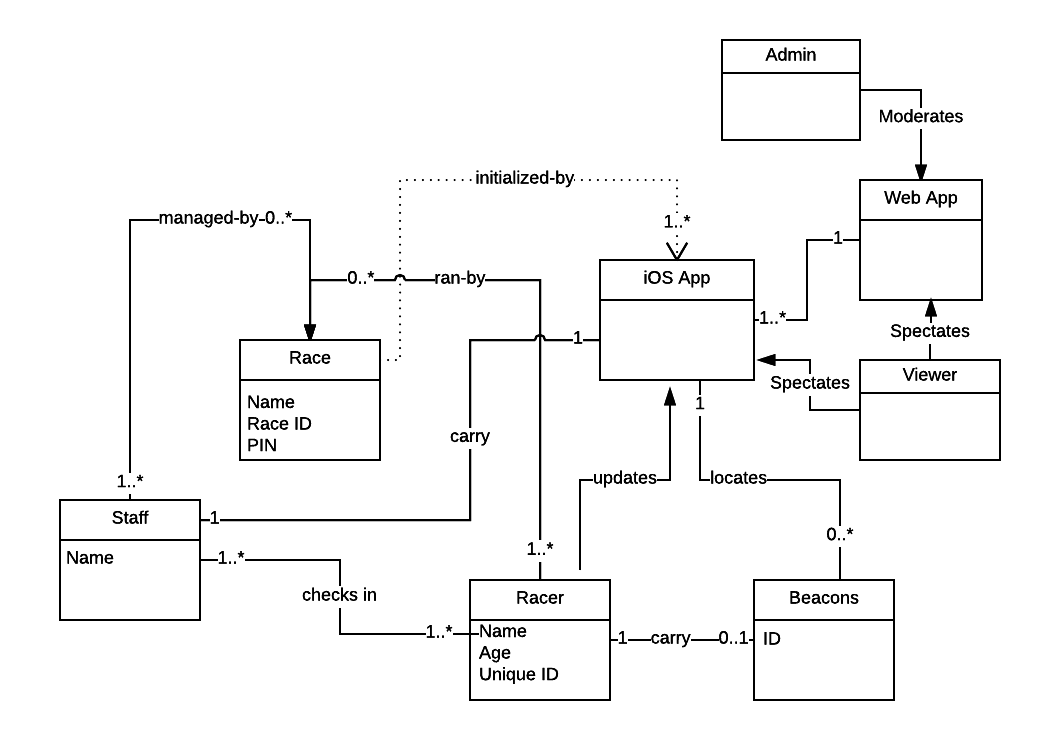 Process Methodology
Modified Scrum
For this project, the team will be utilizing a modified Scrum process. It will be a modified process to account for team limitations with scheduling and in person meetings, while still using the scrum ceremonies for sprint planning and sprint demos/retrospectives. In order to maintain a proper scrum backlog, the team will use waffle.io integrating with github issues to track user stories as well as design, development, and QA tasks. Lastly, to accommodate for the teams' schedules, daily standups will occur virtually via Slack on a dedicated channel so that the chat history can be used to document our progress.
Process Details
Two week sprints (Tuesday-Tuesday).
The first Tuesday of the sprint will have a planning meeting and sprint demo/retro from the previous sprint (with the sponsor).
Daily standups done via slack (separate channel just for standups), done every day except Saturday.
Team Process Artifacts
In order to keep the project organized and on time, the team will be maintaining the following internal artifacts:
Backlog (including feature development, bugs, and QA tasks).
Stand-up Log (in the form of Slack channel history).
Requirements Document (where the user stories come from).
Test Plan.