TourTrak
Project Synopsis
TourTrak is the official app of the TD Bank Five Boro Bike Tour (TD 5BBT) and has been developed by RIT students in support of Bike NY and potential future organizations. With a successful deployment during last year's 5BBT on Android and iOS devices, TourTrak provides basic tour information to cycling participants while reporting their speed and location. This year's project team will develop new features to enhance the user experience. System efficiency and tour analytics will also be addressed.

Joshua Eklund
Team Coordinator
"I am a software engineering student that is very passionate about biking. This project was of particular interest to me because I just recently changed my whole life around by losing weight and becoming healthy through biking. 71 lbs in 1 year and still going strong."
He did work on the project server and backend development.

Sara Shaffer
Web Coordinator
Sara is a Software Engineering student at RIT with a minor in Game Design and Development and studies Japanese Language and Culture. どうぞよろしく!
Sara did work on front-end development, creating the elements that went into new UI features. She was also the iOS contact on the team, working to deploy the app to iOS devices, solving issues that occured on the iOS platform, and documenting every step and issue faced in hopes the next iOS developer on the project will be more prepared. As the website coordinatoor she kept the website up-to-date.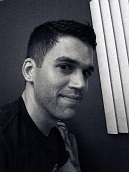 Stephan Wlodarczyk
Sponsor Communicator
Stephan is a Software Engineering student at RIT.
Stephan focused on front-end menus and styling, creating additional views and controllers to support this years requirements for TourTrak. He worked with the sponsor to revamp the existing user interface to better enhance the app's overall user experience and interactivity. He also designed the final poster.
Tom Moore
Meeting Scribe
Thomas is a Software Engineering student at RIT.
He did work on the server.
Scott Hawker
Faculty Coach
Centri-pedal Motion's faculty coach is J. Scott Hawker, Associate Professor of Software Engineering at RIT.
Lee Fischman
Project Sponsor/Executive
The sponsor for this project is Galorath Incorporated. Lee Fischman acted as the Project Executive and was the contact between the team and Bike NY.