The following documents the overall design of how we will deploy the RocReadaR Portal and Recognition Server. 
This diagram can be accessed with the proper permissions at https://drive.google.com/a/g.rit.edu/file/d/0B8ALJia9jVzAcTNUQUdva2ZSR2M/view?usp=sharing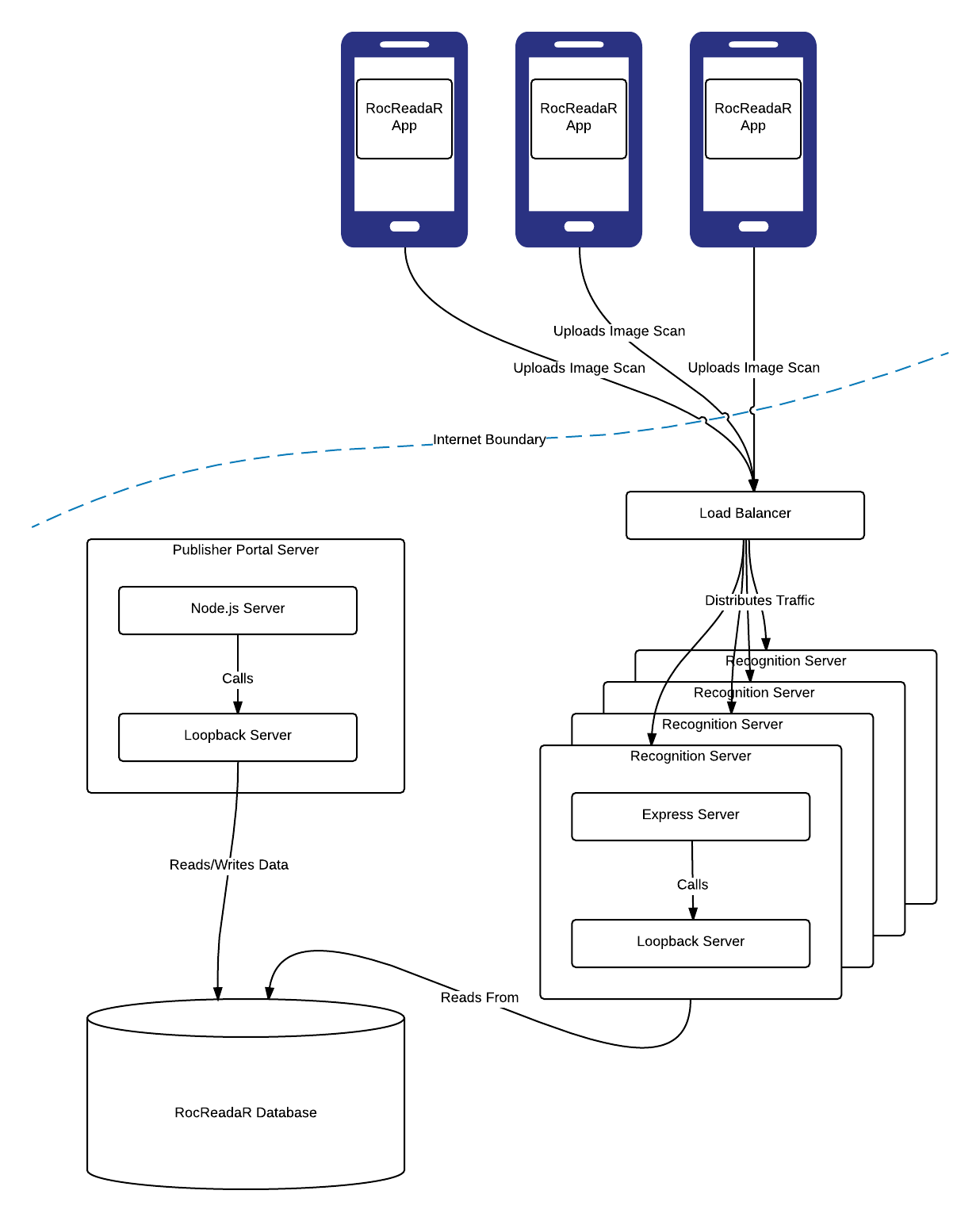 Element Catalog
RocReadaR App

This is the mobile application that sends images to be recognized. In this view, this is the many possible concurrent users using the system.

Load Balancer

This component takes requests from the RocReadaR App and distributes them to the next available recognition server
This component should not be developed by us. Many "off the shelf" versions are available, and most cloud services should have this built in.

Recognition Server

This server contains the software to recognize images uploaded by the RocReadaR App and responds with the appropriate media.
The Load Balancer should have the capability to create new servers at runtime on demand, based on the current request traffic. Most cloud services have this scaling capability built in.
Express Server

This provides the HTTP routes necessary to the RocReadaR App and Load balancer to perform image recognition

Loopback Server

This provides the capabilities to the application to access the database as a local HTTP ORM (Object-Relational-Mapper). 

RocReadaR Database

This is a singleton instance of a database that contains all of our recognition images and media.
Files stored in the database should be serialized. No files relevant to media or image recognition should be stored locally on the recognition servers.
A cache manager may be used "on top" of the database. Redis is a good example of a cache manager that could be used.

Publisher Portal Server

Hosts the publisher portal. This connects to the database to create and update media and recognition images used by the Recognition Server
Load is not a major concern of this system, as it can only be accessed by publishers. 
Uses Node and Loopback in a similar fashion to the Recognition Server. 
Attachments:

Architecture - Allocation Deployment.png
(image/png)